Eurozone
The dynamics of the euro in the absence of significant macroeconomic publications were largely determined by news from overseas and technical factors.
According to the CFTC report, the net long-term value of the euro continues to rise and reached a record high in 6 years published on Friday.
An estimate of the GDP growth in the eurozone for the second quarter will be published on Wednesday and expectations are neutral.
United Kingdom
For the week, the British pound traders looked for reasons to resume growth but failed to do so. The quarterly growth rate of GDP declined by 0.2%, according to NIESR. This confirms the slowdown of the economic trend wherein a weaker pound could not induce growth. The trade balance goes much further into the negative territory after the results in June turned out to be worse than the forecasts of experts.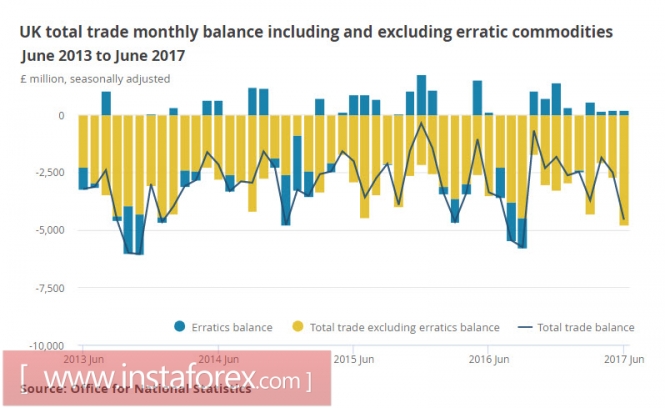 Brexit is picking up its pace.
On Tuesday, a large report on production prices and consumer inflation in July will be published.
Report on the labor market for June will be published on Wednesday.
The retail sales report will be released on Thursday and there is no reason to expect positive results.
Oil and ruble
The OPEC report published last week turned out to be better than expected.
At the same time, the U.S. gasoline stocks are growing while China is reducing imports which are negative signs. Currently, the oil market shows a bullish tone and there is a possibility of Brent to increase by 53 dollars per barrel and will be much higher by the end of the week.
Russia's GDP growth was significantly higher by 2.5% year-on-year compared to the forecast. The Inflation fell to 3.9% with the surplus of foreign trade amounted to 59.6 billion dollars in the first half of the year. It is 33.4% greater in the same period a year ago.
Slow inflation and overall economic growth led to an improvement in the business climate and lending conditions. Sberbank has made an unprecedented decline in the lower mortgage lending bracket to 7.4%.
A noticeable improvement in the economic situation.
The material has been provided by InstaForex Company -
www.instaforex.com