Trading plan 28.08 - 01.09.2017
The overall picture: The focus of attention shifts to the US data. But a week later it will move to the the ECB.
On Friday, a meeting of the heads of the Central Bank took place in Jackson Hole. The heads of the ECB and the Fed spoke. The main thing in the statement is that the central bank is not ready to soften the regulations of the financial sector, which was significantly tightened after the 2008-2009 crisis. This particularly pertains the tight regulation of the ECB, but the Fed is agreeable. This is directly against Trump's intention to weaken the regulation of the financial sector.
But the markets reacted to what they did not say. And they did not mention about the start of the plan to exit the easy monetary policy - this was what everyone was waiting for. As a result, the dollar fell. EURUSD made an impressive upward surge on Friday and reached 1.1955 on Monday morning, breaking through the weekly level of 1.1910.
However, the intrigue surrounding the policy of the central bank has only been postponed:the ECB meeting is already on September 6, and there should be a clear answer to the question: When will be the completion of the infusion of funds?
Another reason for EURUSD players to think about the fate of the trend: elections in Germany is on September 27. It seems that there is no issue, but before elections there is always a weakening of the currency, most often.
In the new week, the main thing is news on the US, first of all - the labor market. On Wednesday August 30 - the report on employment from ADP, on Friday - nonfarm payroll data is due. On Wednesday, the US GDP report - but it should be taken into account that this is the second reading.
EURUSD
There is an upward trend. The goal so far - the upper boundary of the rising channel is 1.2090. Selling from 1.2090 with a stop no more than 45 points ( the channel boundary is specified on time).
Buying: With rebound. Selling area 1.1870 - 1.1820
Buying are possible after a rollback on the scale of H4 and the formation of a level to break through to the top with a potential to the last maximum of at least 50 points.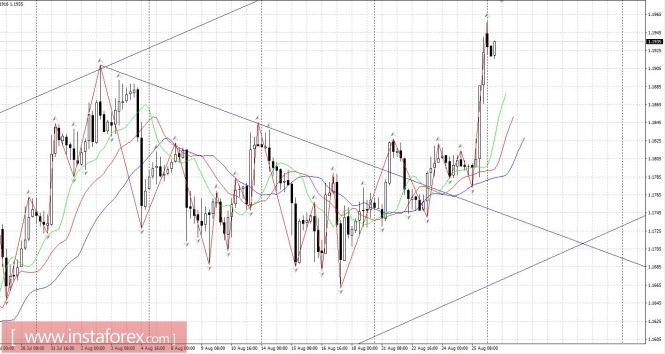 The material has been provided by InstaForex Company -
www.instaforex.com