Global macro overview for 29/08/2017:
The main theme on markets since the Asian session started were news about another North Korean ballistic test. This time a projectile shot over the northern part of the Japanese island of Hokkaido and landed 1180 km east of the island. This was the most provocative act on the part of North Korea so far and cause a flight-to-safety reaction on the financial markets. Risky assets (Nikkei, AUD, NZD) were sold off across the board and safe assets like CHF, JPY, and Gold appreciated (USD/JPY fell 100 pips to 108.30, the lowest level in 4 months). If the missile actually hit Japan's territory (and the first press allowed such a scenario), we would be in a completely different geopolitical reality. North Korea begins to play a dangerous game, although experts opinion is, that no party of the conflict (North Korea, China, Japan, US) is interested in global war. The market participants are aware of this, which also explains the relatively quick partial recovery of the initial shock. Although Japan and the United States warn against increasing pressure and sanctions on North Korea, they are not going to do anything more than that. Japanese Prime Minister Shinzo Abe confined himself to saying that the missile test of Korea was "unprecedented, dangerous and serious". During the day, markets will be waiting for the US response to this situation, but if the tone does not diverge from the signals from Tokyo, there is no reason to expect a deepening of risk aversion.
Let's now take a look at the EUR/CHF technical picture at the H4 time frame. This pair did not react much to the ongoing situation yet as it is still trading inside of a range of the levels of 1.1352 - 1.1446. The bearish divergence makes the price vulnerable for a further slide towards the level of 1.1270, especially if the geopolitical situation gets worse suddenly.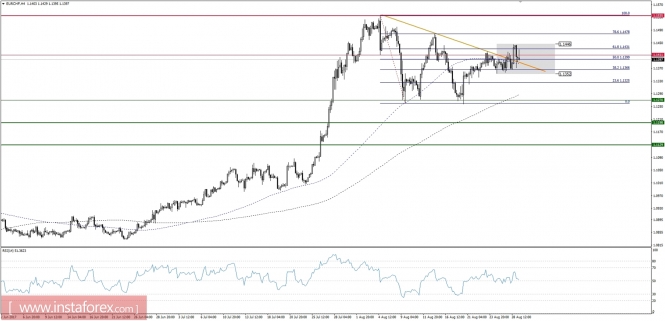 The material has been provided by InstaForex Company -
www.instaforex.com