The single European currency failed to take advantage of the positive effect of business in the euro area on August.
It is improbable that the heads of central banks will talk about exchange rates directly, so the markets will try to catch the slightest clues. Draghi's statement about the risks of a strong euro for inflation or GDP will indicate a "bearish" signal for the EUR/USD pair. However, further concern of Yellen is due to financial stability. It can be regarded as a signal that the Fed continues to adhere with the plan and will raise the rate on federal funds for the third time in 2017.
The opinions of the major banks on further dynamics for the main currency pair diverged. Hence, Barclays believes that the market is running ahead of itself and clearly overestimated the possibility of normalizing the monetary policy of the ECB. Inflation in the euro area will remain low for a longer time and the central bank will keep its commitment to QE regarding negative rates. The divergence in monetary policy will allow us to rely on the EUR/USD falling in the direction of 1.123 in case of a successful move above the 1.157 support. The National Australia Bank (NAB) also pays attention to inflation, arguing that the growth of the trade-weighted euro rate by 10% slows the CPI by 0.4-0.5% for 2-3 years. Nevertheless, the bank considers the potential correction limited to 1.1475-1.625.
On the contrary, the Bank of Tokyo-Mitsubishi UFJ (BTMU), is confident in the formation of a wide trading range at 1.15-1.25, which will be relevant throughout the next year. At the same time, euros can pass the $1.2 mark as early as 2017. While BofA Merrill Lynch objects, saying that EUR/USD prices are unlikely to rise above 1.22, given the close relationship between the pair and oil prices. To continue the euro rally, Brent needs to rise above $60 per barrel, which in the current situation looks impossible.
Dynamics of Brent and EUR / USD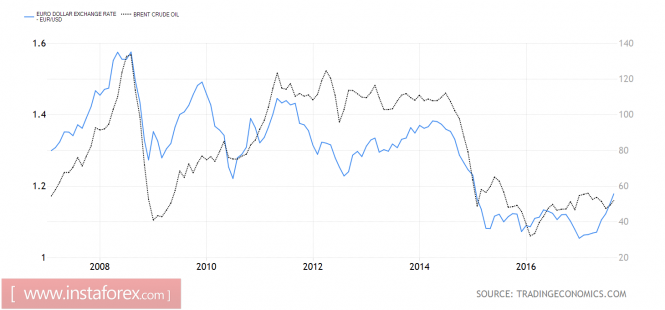 Source: Trading Economics.
From my perspective, there is no reason to doubt the development of an uptrend in EUR / USD pair.
Technically, the EUR / USD pair deals with the "Splash and Regiment" pattern.
EUR / USD Daily Chart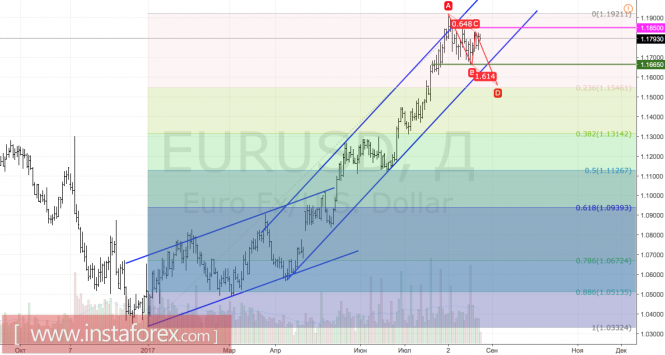 The material has been provided by InstaForex Company -
www.instaforex.com